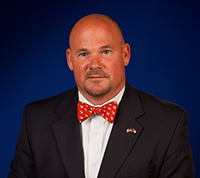 It is my pleasure to welcome you to the Georgia Department of Community Supervision website.   I hope you find the information on this site to be helpful and informative.
Simply put, our mission is to protect and serve all Georgia citizens through effective and efficient offender supervision in our communities, while providing opportunities for successful outcomes.  
Our highly trained and professionally dedicated officers currently supervise approximately 180,000 felony offenders in Georgia communities.  We believe in utilizing a holistic approach to offender supervision that involves all facets of the community which includes, but is not limited to: victims and their families, programs for offenders and their families, involvement in community activities and partnerships with other criminal justice agencies.  We also provide offenders the opportunity to make positive changes while in the community by providing individual support, programs and assistance.
The year 2015 marks a pivotal time of progressive change and opportunity for our agency.  Fortunately for us, change is the heart of our business in the field of community supervision. Our work changes the lives of the offenders, their families, and the communities we serve. The field of community supervision is one of the most dynamic in the criminal justice system. The need to modify and adapt is continuous and we value this opportunity as we believe it brings out the best in us; helping us to strive to lead during times of change, working to be better, more efficient, and more in touch with the communities we serve.
Much as Georgia has become the model for criminal justice reform across the nation, it is our goal to become a national leader in the innovative and progressive community supervision of offenders as well.  We believe we can reach this goal by embracing best and next evidence based practices, utilizing an integrated approach to improve offender behavior, effectively coordinating between all concerned stakeholders and ensuring victim's voices are heard and victim rights are protected.  
Our agency was founded on the tenets of public safety and progress.  As the Commissioner of the Department of Community Supervision, I am privileged to be a part of such an outstanding team of individuals that make this vision a reality every day.
Again, welcome to our website. I'd like to thank the many people who work on behalf of our mission, to make us the place where public safety and progress meet.
Sincerely,
Michael W. Nail
Commissioner